Gatelock Van Large – Extra
CUT PROTECTION padlock for vans.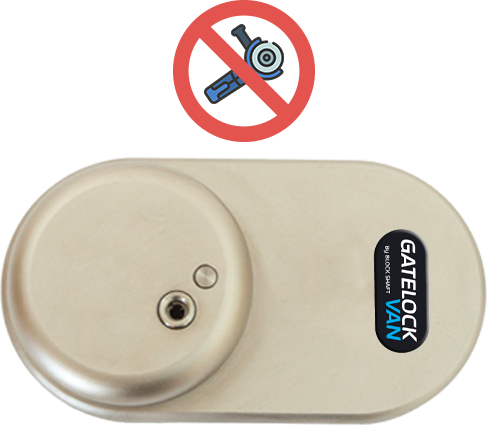 GATELOCK VAN MEDIUM and GATELOCK VAN LARGE are available in the EXTRA configuration. . The padlocks retain the same characteristics as the standard versions but thanks to the insertion of ANTI-CUT bars inside the body of the lock, resistance to burglary is impossible. They are permanently installed on the rear and side doors of any commercial van using steel pins and reinforcement plates on the inside of the doors to grant a superlative level of security against burglary. Designed for those seeking maximum safety and strength, this series also comes with an emergency cable positioned in the load compartment for opening from the inside in case of extreme necessity. It is resistant to intensive use and anti-tampering in case of attempts to open the vehicle from outside.
Available for trucks and semi-trailers
Mechanical Configuration
GVL  EXTRA locks are supplied in the mechanical configuration. Thanks to the Netoma® security cylinder positioned inside the padlock, opening will be possible using one of the 3 supplied keys. Following the operations of loading and unloading goods, the padlock closes automatically just by pushing the doors.
Configurazione Elettronica
GVL EXTRA locks are designed to work through an electrification kit made up of a control unit and a motor (automotive class). Through a radio control or transponder, this upgrade allows remote management of the entire system without the need to use the mechanical key, supplied in any case for any emergency. This version can be interfaced with any GPS system.